I, SpiritHorse, inhabit the body and
Soul of your grandest Earthly companions . . .
Sent here from realms of the Great Divine,
Offering Earth my lofty point of view.
Oh Earth — my contact with you refuels me. 
Your electric charge sparks my Quantum Quarks
In fickle entanglement, springing forth in leaps of Light . . .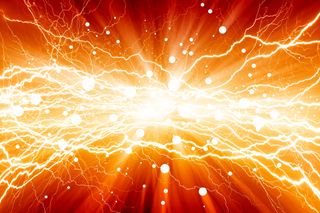 With you — my Horse and I, run free —
Breaking away from gravitational bonds
Into weightless realms of Light and Love . . .

Where hoofbeats drum into dreamlike splendor;
Where Life takes flight into magical wonderlands.
Flowing. Leaping. Dancing. Free!
~~~~
You, my Human — I see you. Feel you.
My Horse and I carry you on our back. In our Soul.
You, who birthed me. Tamed me. Fed me.
You, who love me. Sing to me. Watch over me.
Come to my gate, and free me. Let your
Quantum Quarks intertwine with mine . . .
Breathe me. Snuffle my nose, my neck.
Feel the Divine which fills my Horse, which fills you.
No one on Earth sees you the way I do, my Human.
No one on Earth carries you, lifts your
Earthly weight and frees your gravitational bonds,
The way our chemistry, our knowingness,
Our entanglement can . . .
Hop on! Launch into that heavenly gift which enables us to merge as one,
Head out the gate, and explore. Walk. Trot. Gallop!
(Nature abounds.)
Warming up, bodies/spirits meld —
I love to gallop as much as you love to ride!
Together, we make the trail before us come alive.
~~~~
I am here, every day. Where are you, my human?
My Horse grows, changes, every day.
Yet, so often you don't come our way.
My Horse longs for you . . . for our time together,
Outside the limits. Outside the corral.
My Horse's biological clock ticks. Tocks.
For only so many days . . . so many years.
Where are you, my human? When can we
Create the Quantum Magic we came here to share?
Unless you come to my gate, open my latch,
Call me out, free my Soul — my captivity sours :((
Food. Water. Not enough. I crave more.
I long for deep connection of our Souls;
Invigorating interaction with you, with the Earth —
Hoofbeats flowing like a current, unbroken,
From the Cosmic Power Source we all share . . .
From you, to me, to my Horse and her
Passion to hit the trails, experience freedom,
And explore . . . all that we are. All that we can be . . .
All that we came here to learn. To become. To embrace.
~~~~
My Horse and I wait here, Saintly. Patient. Ready.
We, your partner. We, your servant. We, your mate.
Where are you, my human? When can we
Leave the gate? When can our electricity flow?
~~~~
This one brings tears! Our SpiritHorse awaits us. It's a form of Holy Trinity — Spirit, and Horse, and Earth, inter-playing in electric entanglement — and we, as humans, factor in. We hold the key to the gate. The freedom.

This poetic lyric came through in January, 2021, when Winter's frost and snow prevented me from getting my horses out to ride. Let's make plans and follow through. Let's free our SpiritHorse from captivity this riding season — get out onto the trails, and R*I*D*E :))  DawnHoof 
~~~~
SpiritHorse: © 2021 Dawn Jenkins
Photos:  DawnHoof (Dawn Jenkins), Igor Zh. Shutterstock
~~~~
Please visit my Life Blog Journal of Dawn
for Strategies and Insights into the
Journey of Life
~~~~
Join Dawn for a Soul Horse Ride! Experience the thrill of becoming one with your Horse . . . Join Dawn and her homegrown herd for a Soul Horse Ride in the
Frazier Park Outback!
Call to book your Life-Changing Adventure today: (661) 703-6283
~~~~